©VR-Nerds GmbH
Welcome to the new age of VR!
A PvP Competitive VR Shooting attraction has arrived!
Tokyo Joypolis' first competitive VR!
What will bring victory into the virtual reality battle? Intelligence, physical fitness, concentration, fortitude...
...in other words, the power of the real you!
Cooperate with friends and build a plan to win the battle!


Pioneer in VR-eSports
Fierce fighting in a VR space, truly an「e-Sport」!
State of the art technology that brings you an overwhelming immersive feel and impressive experiences...


The world of「TOWER TAG」
Set in a near future city.
Team up and defeat your rivals soaring the skies of countless towers in the VR shooting game field.
Appealing intuitive controls make it not only a shooting experience.
You can dodge your opponent's attacks by actually using the walls.
Also by aiming the tower's top part, a wire-like tool provides swift movement between towers.

Follow your intuition and make use of those tools to defeat your rivals!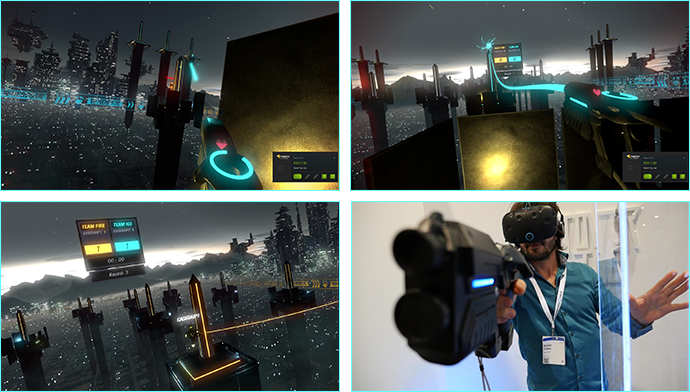 *You will be given a randomly selected sticker. You may not choose the design.


「VR e-Sports」・What is「(e-Sports)」?
The "e" in e-Sports stands for "electronic"
It derives this name from sporting events that use computer and video games for competition.
As you actually use your body to move, it enters into a category close to real sports and
「VR e-Sports」is one of the newest forms of entertainment applied to「e-sports」
Attraction Information
Price
900 yen (1 person) *Passport-Ticket available.
Capacity
4 people(2vs2) *1room.
This attraction is for a group of 4 people.
*If you don't come in a group of 4 people, you will have to join another group with other guests, so please bear this in mind.
Height restriction
Over 110cm
Age restriction
Please be noted that anyone under the age of 7 is not allowed to enter. Children ranging from 7 years-old to under 13 years-old must need parental consent.