Last Updated:January 8, 2017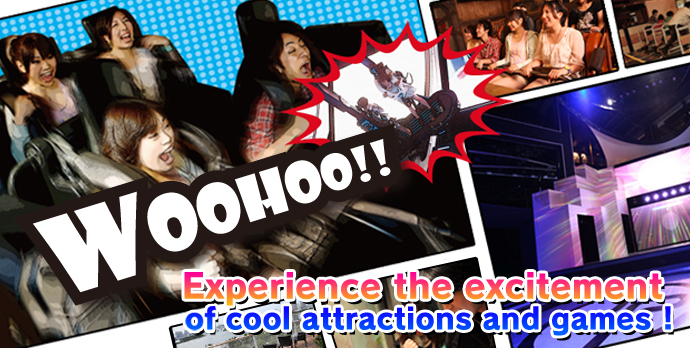 Adult
(18 yrs and over)
Child
(7 to 17 yrs)
Admission
\800
60 years old and up :Free
\500
Passport
Admission & Rides included
\4,300
\3,300
Night Passport
Admission & Rides included
(5:00 pm-)
(Saturday, Sunday, and National holidays :4:00 pm-)
March 21- April 4,2017:
4:00 pm-
\3,300
\2,300
Late-Night Passport
Admission & Rides included
(8:00 pm-)

\2,800
\2,300
Annual Passport
(Validity period:365 days)
Admission & Rides included

\12,000
\9,000
* Please be advised that the prices and sales hours of tickets are subject to change without prior notice.

Children under 6yrs of age and adults over 60 are admitted free (charges apply for attractions and game play).
Ride tickets are available in the park at charge stations.
Passports are valid only on the day of issue for one person.
Re-entry to the park on the day of issue is unlimited for all Joypolis card holders.
Guests under 110cm in height may ride for free where permitted.



Bringing in food or drink from outside the park is not permitted.
Smoking is not permitted in the park other than in designated areas.
Queue jumping or holding places in lines are not permitted.
Unauthorized in-park soliciting or photo shooting in attractions are prohibited.
We cannot refund tickets.



Address:

1-6-1 Daiba, Minato-ku, Tokyo.

TEL.

03-5500-1801
Rail:

Via Yurikamome Line: approx. 2 mins walk from Odaiba Kaihin Kouen Station.
Via Rinkai Line: approx. 5 mins walk from Tokyo Teleport Station.

Bus:

Toei Bus: take Route "Niji 01" from JR Hamamatsucho Station, get off at "Daiba nichoume" (approx 3mins walk).
Odaiba Rainbow Bus: take from JR Shinagawa Station(Konan Gate) or JR Tamachi Station(East Gate), get off at "Daiba nichoume"(approx 3mins walk).